1. Product Features
1.1. – What's the difference between the Lighting Passport Standard version and Flagship version?
Lighting Passport Standard: If your mobile device is iPhone 4S or later version, or Android 4.4.2 or later version, and already supports BT4.0(BLE, Bluetooth Low energy), you can choose Lighting Passport Standard version. It's light, portable, and well worth its value.
Lighting Passport Flagship: If you are a frequent user, Lighting Passport Flagship version can provide you the best user experience with an iPod Touch inside. It also can be used separately and remotely as the Standard version.
1.2. – Can I use the Lighting Passport to measure "Lumen"?
According to the approved standard(EX: LM-79), it needs an integral sphere to measure "Lumen". There is no portable meter that can really measure "lumen" (total flux) of the luminaire. Lighting Passport can measure illuminance which is a good reference of the lighting intensity.
1.3. – Is Lighting Passport accurate?
First of all, Lighting Passport is a grating-based meter with an optical resolution under 8 nm, and that is better than most portable Spectro lux meters. Second, we implemented a complete calibration system including standard spectrophotometer, standard light source and so on. In our lab we calibrate every Lighting Passport based on NIST (National Institute of Standards and Technology) criteria before shipment.
Lighting Passport also passes the notary labs tests, like the National Measurement Lab of Taiwan, China, and Switzerland so that accuracy is ensured.
1.4. – Does LP have any safety assurance?
Lighting Passport has safety certifications including CE,FCC,SRRC,CB,NCC,VCCI etc.
1.5. – How long should I charge Lighting Passport?
Please check the battery icon in the bottom of the main menu of Spectrum Genius Mobile APP. If the icon turn to RED, we suggest you to charge Lighting Passport.
If you turn on Lighting Passport but the BLUE lighting not on, please turn off Lighting Passport and charge it.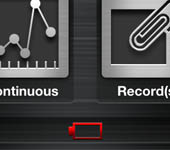 1.6. – Does Lighting Passport have to be turned on or off when charging?
If the battery still has power(Blue light will be on when turn on Lighting Passport), it doesn't matter. But if the battery runs out of energy, please charge in turn-off to avoid components damaged.

1.7. – Can I control Lighting Passport from a computer?
We are considering adding this function in the future.
1.8. -Do you provide PC version software?
Spectrum Genius PC Version is a powerful Meta Analysis PC Software. It can completely support the user of Lighting Passport. Spectrum Genius PC Version supports both the Standard and Advanced (choose and buy) models. TEL: +886-2-2218-5577
1.9. – How to import the data I measured with Lighting Passport to my computer for detailed analysis?
1. By E-mail
Step 1 : Find data in "Records" and choose the one you want to check.
Step 2 : E-mail the data to selected mail account.
Step 3 :Get the raw data on your computer and import to Spectrum Genius PC version
2. By iTunes
Step 1 : Open iTunes and connect the iDevice with the computer.

Step 2 : In the Device menu, click the application.
Step 3 : Click the "Asensetek SGM" folder, select the data, then click "Save as".
3. Other media
Step 1 : You can also use wifi, USB, SD card(Android device) for data transferring. Please go to the link here and download the Manual.
Step 2 : https://www.asensetek.com/wp-content/uploads/2015/05/Spectrum-Genius-PC-Instruction_En.pdf

1.10. – How can I print out a test report?
Spectrum Genius Mobile APP provides you the function to instant email measured results to your coworkers or clients. You can also print out formal test report with Spectrum Genius PC version.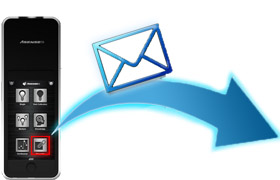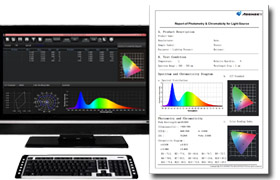 1.11. – Any precautions for use Lighting Passport Flagship touch screen part?
As the picture shows, if you want to turn on/off the screen, just push the button downward gently. Please don't push the button too heavily or push it to wrong direction, it may damage mechanical structure.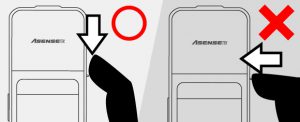 2. App Download
2.1. – How to get APP?
You can input keywords "Asensetek", "Spectrum Genius", or "Lighting Passport" to search the App in APPLE App Store and Google Play Market, Chinese area users can search the App in 360 and Wandoujia; you can scan the QR code below or click the App banners to get the App. Those Apps are Free for installation now.
For iPad users, please go to App Store and search "Asensetek, Spectrum Genius, or Lighting Passport", then change "iPad Only" to "iPhone Only" to download the App.

3. Connect
3.1. – Does Lighting Passport support my mobile device?

Lighting Passports can be used with: For iOS devices, we support iPhone 4S ,iPhone 5/ 5C/ 5S,iPhone 6/ 6+ ,iPod touch 5,iPad mini/ mini2 ,the New iPad(iPad 3), iPad Air and above version.
For Android devices, we support Android4.4-based and with BT4.0 (BLE, Bluetooth Low Energy) module, and now optimized for Samsung S4/ S5/ Note3, LG Nexus 5, and Sony Z1/ Z2.
We will support most devices with BLE function soon.
4. Smart Device
4.1. – What's the communicating protocol between Lighting Passport and mobile device?
We adopt BLE(Bluetooth Low Energy,BT4.0).It can provide considerably reduced power consumption and make devices stable and durable.
(https://www.bluetooth.com/Pages/Low-Energy.aspx)
4.2. – What is the longest distance for remote measurement of Lighting Passport?
Depends on the amount of interference. We suggest that the distance between the mobile device and Lighting Passport have to be less than 7 meter.
5. Product Use
5.1. – Is there any suggested distance between Lighting Passport and the light source?
The distance is related to light intensity and the light pattern. For illuminance, the Lighting Passport can accurately measure a light source from 100 to 50,000 lux, and you can adjust the distance based on this. Some companies provide the illuminance (lux) of 1 meter, 2 meter and 3 meter. For outdoor lighting, you can measure the light source at the similar height of human body. For indoor lighting, measure the light source at 80~100 cm. We also suggest you to use auto integration mode to save the time for distance adjustment.
5.2. – What kind of SDCM standard do you use in your APPs?
Some use the ANSI-SDCM, but we follow the IEC 60081.
6. Measuring Function
6.1. – How to measure with background light?
Spectrum Genius Mobile APP provides a function that lets you can subtract background to get more accurate results:
STEP 1 : Turn off the light source to be tested, and execute Subtract Background.
STEP 2 : Then turn on the light source, execute Measure.
7. Bluetooth Pairing Troubleshooting
7.1. – How to troubleshoot the Bluetooth pairing?
STEP 1 : Turn off the Lighting Passport and restart it.
STEP 2 : Turn the Bluetooth off on your smart device and then turn it back on.
STEP 3 : Make sure you have the latest software update on your smart device.
STEP 4 : Make sure you are not too far away from your Lighting Passport when trying to connect.
STEP 5 : Watch out for interference from another smart device (it is rare but could affect the pairing).
STEP 6 : Save data via iTunes before deleting the application you are using.
STEP 7 : Delete the app and reinstall it (make sure your measurements are saved to another smart device or computer before doing this).
8. Services & Warranty
8.1. – What's the warranty period?
The 1-year basic warranty that Asensetek provides starts on the shipment date indicated on the invoice.
(* Shipment date means the "date of purchase" on your warranty card. The date is only valid when a company stamp is found.)
8.2. – How to calibrate the device?
We suggest to re-calibrate once every two years.
8.3. – How long does Lighting Passport need to get re-calibration?
To calibration the Lighting Passport, it has to be done in our NIST Traceable laboratory in Taiwan. We offer 1 free calibration service in the first year. You may send the device to the distributor and ask for re-calibration. They will assist you with the rest.
9. Browsing the Site
9.1. – Why are images on the website not displaying correctly?
For the best user experience, we recommend the latest version of Chrome, Microsoft Internet Explorer 11 and above Mozilla Firefox 49 and above, Safari 9 and above on Mac OS.