CUSTOM COMMERCIAL HVAC UVC LIGHT SYSTEM
We appreciate your patience as we are responding to the overwhelming demand for our products and technology.
Improve IAQ, Save Energy, Extend HVAC System Life
Now, more than ever, indoor air quality is an issue of vital importance for commercial and public facilities of all types. UV germicidal UVC light systems reduce the risk of airborne infectious disease and have been proven to inactivate the SARS-COV-2 virus within 0-2 seconds of exposure (SARS-COV-2 causes the COVID-19 disease). This virus, like all viruses, bacteria, and mold has no defense against UVC light, which is present in sunlight but is filtered out by the Earth's atmosphere. The very short 254 nm wavelength of UVC light is able to penetrate the cell walls of microorganisms and disrupt their DNA which inactivates them. Every commercial building can benefit from germicidal UVC disinfection by reducing biofilm on coils, resulting in significant energy and maintenance savings.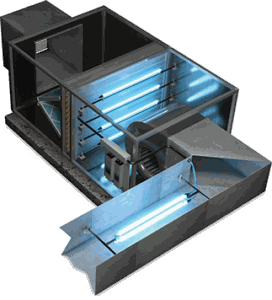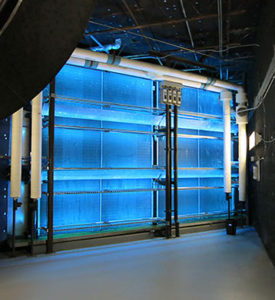 COIL & AIR DISINFECTION
Biological fouling (usually caused by mold) is a common problem in commercial air handlers. The cool, moist interior of the air system is an ideal breeding-ground for mold. A biofilm of only 0.002" can reduce efficiency by 37%! Unfortunately the conventional cleaning procedures used to kill mold are expensive, labor intensive, and use harsh chemicals which are themselves a source of environmental contamination and a health risk to maintenance workers.

The good news is that germicidal UVC disinfection is proven to sterilize cooling coils continuously, 24/7, safely, and cost-effectively. The  UV Commercial Series Core System (along with optional Tubular Rack, and APCO Rack mounting kits) is designed to stop biological fouling on the coils and will quickly pay for itself with energy and maintenance savings.

The  UV Commercial Core System (along with the optional mounting kits) is ideal for most coil disinfection applications. The APCO Rack reduces odors and VOCs in addition to disinfecting coils. Smaller commercial air systems (up to 7.5 tons) can use one of our AHU Series 1 products for coil disinfection
Blue-Tube XL (TUV-BTXL)
This is one  the UV commercial system available through HVAC distribution centers. Blue-Tube XL offers high-output UVC lamps, easy and flexible installation, and includes everything needed for most coil and duct-mount applications. BTXL is designed to sterilize airborne viruses, bacteria, and allergens as well as reducing energy and maintenance costs associated with commercial HVAC (coil disinfection). It includes an advanced multi-voltage water-resistant power supply. All parts (except lamps) are covered by a lifetime warranty.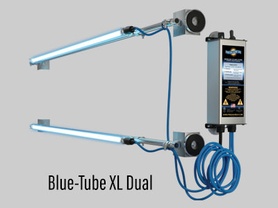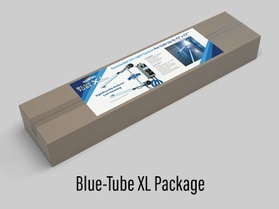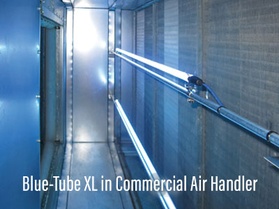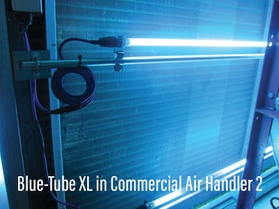 Commercial Core System (TUVC)
The Commercial Core UV System features high-output water-resistant lamps with convenient "L" mounting brackets. Also included is our heavy-duty Multi-                  voltage water-resistant power supply which comes with a lifetime warranty. The functionality of the Commercial Core System can be extended with the addition of several optional mounting kits and APCO Rack modules.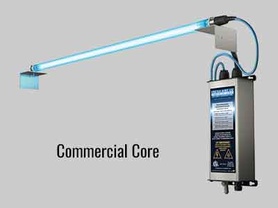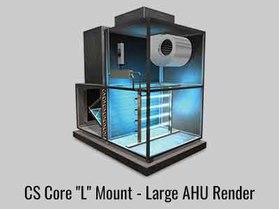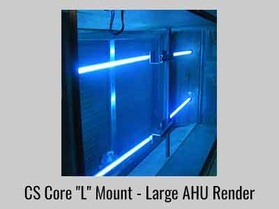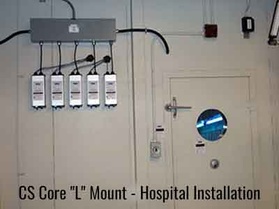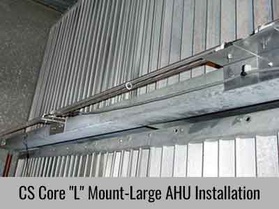 Tubular Rack Mounting Kits (TUVC-TRS, TUVC-TRSX)
TRS and TRS-X Mounting Kits are designed for installing the UV Commercial Core System using 1/2″ EMT conduit supports. The TRS-X kit includes everything needed for most installations including EMT tubing (40″) and 60 lb. magnets for both EMT and UV-C power supply mounting onto metal surfaces. The TRS Kit includes all the same hardware except the EMT tubing and magnets. Additional mounting hardware items are available for more challenging situations. EMT conduit supports add strength and convenience to the UVC installation.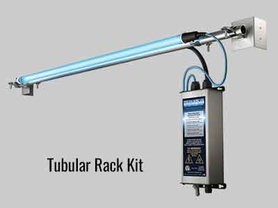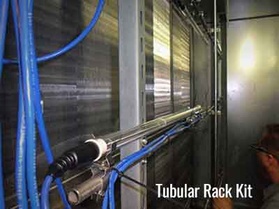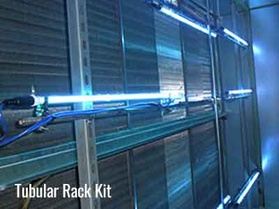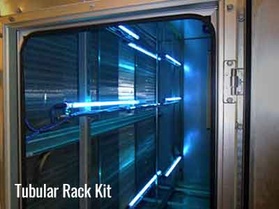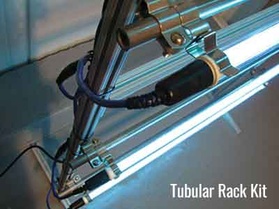 ODOR/VOC REDUCTION
Volatile Organic Compounds (VOCs) are the source of nearly all odors. Unpleasant odors in a business, medical, or animal care facility can be a real problem. VOCs are not only the source of unpleasant odors, they can also be toxic. Chemicals like formaldehyde, acetone, and toluene are significant health risks and contribute to indoor air pollution.
APCO technology from products UV, which was initially developed for residential whole-house duct mounted air purifiers, has been adapted for larger commercial systems with the APCO Rack System. This award-winning technology uses a unique combination of UV-C light, activated carbon, and titanium dioxide to safely adsorb and neutralize VOC molecules in the air as it passes through the HVAC system. APCO technology produces no ozone. For smaller systems consider a duct-mounted APCO system Residential APCO page.
APCO carbon cells trap and hold VOC molecules so they can be neutralized by a process called photocatalytic oxidation (PCO). The PCO reaction also keeps the cells clean so they should never need to be replaced.


APCO Rack Kit (TUVC-APCO)
Reduce unwanted odors and toxic volatile organic compounds (VOCs) with our award-winning APCO gas-phase air purification technology. This optional kit adds APCO Rack modules to the Commercial Core System. APCO cells contain activated carbon infused with titanium dioxide which reacts with UV-C light to capture and catalyzes odor-causing VOCs. Proper use of the APCO Rack can reduce the amount of outside air needed for ventilation according to ASHRAE Standard 62.1.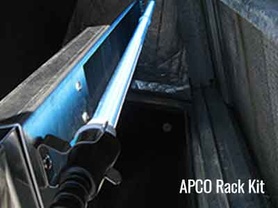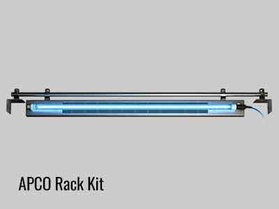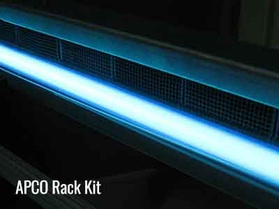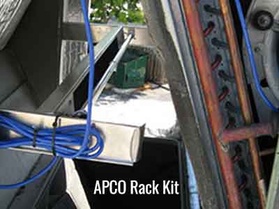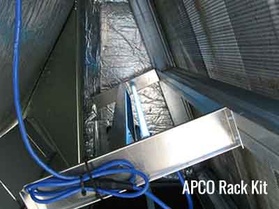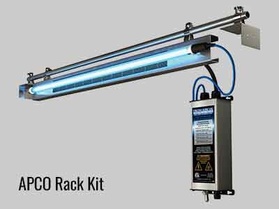 DUCT-MOUNT AIRBORNE DISINFECTION
Airborne infectious diseases are one of the most serious threats to health related to HVAC equipment. In settings such as hospitals, clinics, yoga studios, elder care and veterinary facilities airborne pathogens can be spread by the air system threatening the health of patrons and exposing facility owners to liability risks.
Fortunately  UV product has a solution. Our Airborne Disinfection System equipped with high-output UV-C lamps kills airborne pathogens 24/7.


Airborne Duct System (TUV-C-ADS
This product is ideal for hospitals and other applications where airborne germicidal disinfection is a priority. It is installed in HVAC ducts to maximize exposure time with the air. Because exposure to surface materials is limited this system uses our high-output 32″ UV lamps for maximum airborne kill. Choose grid or radial configuration. More lamps can be added as needed depending on duct size and length.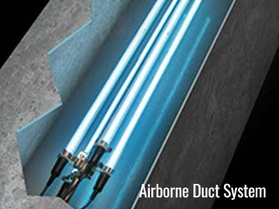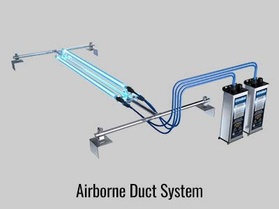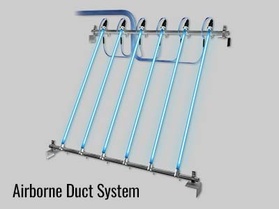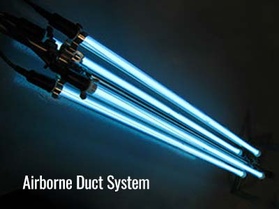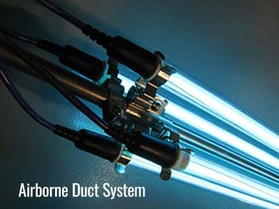 ROOM DISINFECTION
Another application for high-output germicidal UV light is sterilization of room surfaces. It is critical for facilities such as hospitals, veterinary clinics, and food processing centers to limit the spread of biological contaminants as much as possible. The Environmental Surface Disinfection System (ESDS) from  UV Commercial Series addresses the need for surface disinfection in spaces that are prone to biological contamination or where biohazards must be kept to an absolute minimum.



ESDS Room Disinfection System
The Environmental Surface Disinfection System uses germicidal UV-C light to disinfect room surfaces when the area is unoccupied. The UVGI system features overhead mounted high-output germicidal UV-C light fixtures. Each unit comes with an internal electronic power supply and door interlock safety switches. The Fresh-Aire UV lamps included with ESDS are of the highest quality hard quartz and are encased in a shatter-proof Teflon safety coating. Features a metal fixture with enclosed 120 or 230 VAC power supply, 1 or 2 high-output 12000 hour UV-C lamps. 1 or 2 lamp models are available.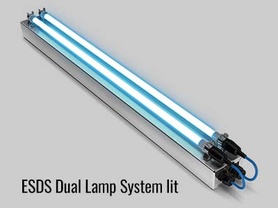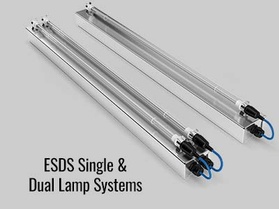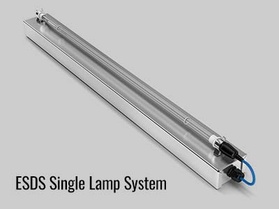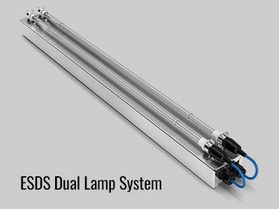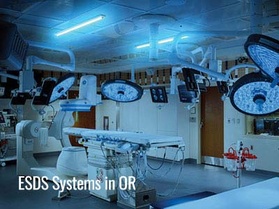 SMALL SYSTEMS
Not all commercial HVAC applications are large. We also make germicidal UV systems for PTACs, Fan Coils, Mini-splits, and smaller air handlers. Our magnet-mounted Tight-Fit Kit is ideal for PTACs and Fan Coils and our Mini UV is designed specifically for Mini-split AC systems. Furnaces and air handlers up to 7.5 tons can benefit from an APCO, AHU Series 1, or Blue-Tube UV system. The APCO Mag System is particularly well-suited for roof-top package units.
We also make Ice UV systems for ice machines of all sizes.


Tight-Fit Kit
The  UV product Tight-Fit Kit makes it possible to realize all the benefits of germicidal UV light in limited space applications including most of the fan coil units and PTACs found on the market today. The kit provides a means for locating the UV light within these units for optimum UV exposure particularly where space is limited.