 Mobile Laser Welding 1000Watt
---
1000W Laser Source

fiber cables

QBH Laser welding head

1.5 HP Water Chiller

Interactive Control System

The handheld laser welding machine adopts the latest generation fiber laser source and independently developed control system filled in the blank of hand-held and mobile welding in the laser equipment industry.




The handheld laser welding machine's advantages are simple operation, welding seam beautiful, fast welding speed, and no consumables. Welding in thin stainless steel plate, iron plate, aluminum plate and other metal materials can perfectly replace the traditional argon arc welding and electric welding technology.




Advantages:



1.Fast welding speed, 2~10 times faster than traditional welding.

2.Easy operating need no training

3.welding seam beautiful smooth and beautiful, don't need polish, save your time.

4.No deformation or welding scar, firm welding of the workpiece.

5.Laser welding has less consumables and long service life.

6. Safer, more environmentally friendly.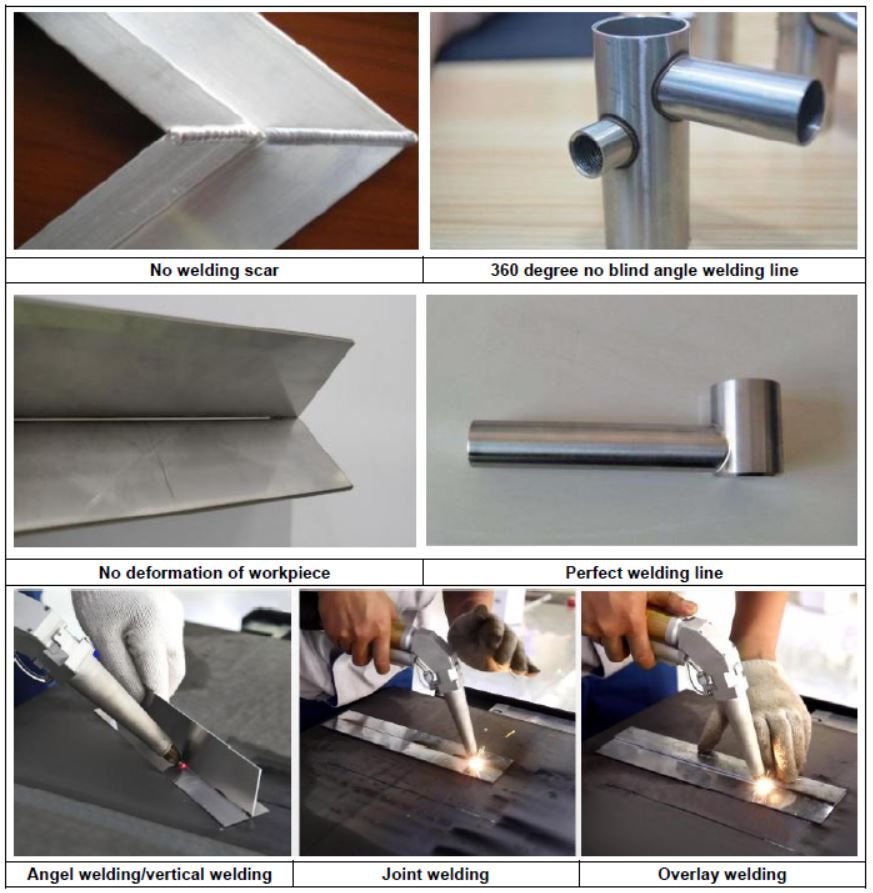 Applications:







           Can be widely used in cabinets, kitchen, staircase elevator, shelf, oven, stainless steel door, and window guardrail, distribution box, stainless steel home, and other industries complex and irregular welding procedures.







Technical Parameters

| | |
| --- | --- |
| Name | Parameter |
| Name | Hand-held fiber laser welding machine |
| Model | ASP-STJ-1000W |
| laser power | 1000W |
| laser wave length | 1070 NM |
| Fiber length | standard10M / Maximum 15M |
| operate mode | continuation/ modulate |
| Welding speed range | 0~120 mm/s |
| Cooling chiller | Industrial water chiller |
| Working environment temperature range | 15~35 ℃ |
| Humidity range of working environment | < 70% No condensation |
| Welding thickness recommendations | 0.5-3mm |
| Welding gap requirements | ≤0.5mm |
| working voltage | 220  |
Comparison to other Welding:
| | | | |
| --- | --- | --- | --- |
| Comparative Project | Traditional Welding | Fiber Laser Welding | Handheld Laser Welding |
| Weld heat input | very high | low | low |
| Work piece deformation | big | small | small |
| Bonding strength with base metal | general | good | very good |
| subsequent processing | polish | no or few polish | no or few polish |
| welding speed | general | 2 times as traditional welding | More than times as traditional welding |
| Applicable material | stainless steel Carbon steel Galvanized sheet | Stainless steel Carbon steel Galvanized sheet | Stainless steel Carbon steel Galvanized sheet |
| Consumptive material | more | less | less |
| Operation difficulty | complicated | General | Simple |
| Safety of the Operator | Unsafe | Safe | Safe |
| Impact of Enviromenttal Protection | Not environmentally frendly | Not environmentally frendly | Environmentally frendly |
| Welding fault tolerance  | Good | Bad | Good |
| Welding | No | No | Yes |
| Light Spot widthajustable | No | No | Yes |
| Welding Quality | Inferior | General | Good |
| | | | | | | | |
| --- | --- | --- | --- | --- | --- | --- | --- |
| Materials | Protective gas | Thickness(mm) | 500W | 800W | 1000W | 1500W | 2000W |
| Aluminium | N2 | 1.0 | | | √ | √ | √ |
| | | 1.2 | | | √ | √ | √ |
| | | 1.5 | | | | √ | √ |
| | | 2.0 | | | | | √ |
| | | 2.5 | | | | | √ |
| Stainless Steel | Ar | 0.5 | √ | √ | √ | √ | √ |
| | | 0.8 | | √ | √ | √ | √ |
| | | 1.0 | | √ | √ | √ | √ |
| | | 1.2 | | √ | √ | √ | √ |
| | | 1.5 | | | √ | √ | √ |
| | | 2.0 | | | | √ | √ |
| | | 2.5 | | | | | √ |
| | | 3.0 | | | | | √ |
| Carbon Steel | CO2 | 0.5 | √ | √ | √ | √ | √ |
| | | 0.8 | | √ | √ | √ | √ |
| | | 1.0 | | | √ | √ | √ |
| | | 1.2 | | | √ | √ | √ |
| | | 1.5 | | | √ | √ | √ |
| | | 2.0 | | | | √ | √ |
| | | 2.5 | | | | | √ |
| | | 3.0 | | | | | √ |
| Galvanized Steet | Air | 0.5 | √ | √ | √ | √ | √ |
| | | 0.8 | √ | √ | √ | √ | √ |
| | | 1.0 | | √ | √ | √ | √ |
| | | 1.2 | | | √ | √ | √ |
| | | 1.5 | | | | √ | √ |
| | | 2.0 | | | | | √ |
| | | 2.5 | | | | | √ |