LaserAero-500 Cleaning System LaserAero-500 Cleaning System
---
1000 Watts, 500Watts, 200Watts
Long Lifetime, Ultra-robust
Presets easy to use for different surface
Controllable laser beam shape
Allied Scientific Pro (ASP) has developed and manufactured a laser cleaning system for aerospace market. Offering full control over a wide range of parameters allows for precise cleaning with the ability to retain patinas.
With a long legacy of expertise in laser nano and micro machining process, ASP is capable of offering a state of the art laser system to address the needs of the aerospace and avionics. Our laser system is compact, robust and has a long lifetime with low or no maintenance for years. We are using the latest laser and scanner technology to offer high quality performance and speed efficient cleaning without causing damage to the object.
ASP laser laboratory services can  assist MRO maintenance expert, (Maintenance, Repair and Overhaul) and  by establishing optimal parameters.
1000 Watt output laser from the laser head; Other model available, 500Watts, 200Watts
10 meters or more optical fiber delivery for remote access

Short pulse with no thermal effect
Long lifetime with the latest laser technology made in the USA
Low cost of operation
Water cooled which helps preserve the building 
One worker operation
Laser safety glasses included  
1 year warranty
Applications:
Aircraft lead-based paint removal
Welding preparation of surfaces
Rust and oxidation cleaning

Surface smoothing Varnish

Avionics part restoring

Aircraft refurbishing   

Part grease cleaning

Aircraft coating removal 

Airframe fluid instrusion

Corrosion treatment
Read the blog learn more. Brake assembly paint stripping Helicopter rotor blades cleaning Jet fighter paint stripping
Key advantages:

Reduce total effective cost per sq/ft by 40% to 60% depending on the material

Reduce labor cost: only 1 operator


Avoid to damage the material base substrate


No need for water, avoid water infiltration

No need for chemical 

Reduce 90% of toxic waste disposal cost : solvent, media blasting, liquid waste 

Reduce risk of injury at work

Environmental friendly

Reduction in injury rate

Reduce cost of protective clothing

Increase lifetime of the substrate your are trying to conserve

Zero consumables

Zero preparation cost

Easy on scheduling
Note: Effective cost includes; labor, preparation time, damage prevention, power consumed, amortized equipment cost, consumable material costs and residue disposition costs.
---
Laser specifications: 
| | |
| --- | --- |
| Laser Engine  | 1000Watts, 500, 200, 100W also available |
| Pulse duration | 10 to 30nsec |
| Cooling | Water cooled |
| Estimate Lifetime Expectancy | 10 years |
| Repetition rate | 1 to 55 KHz |
| Peak Power | Kilowatt |
| Design  | No moving parts in the laser engine |
| Voltage and power comsuption | 3x400-480VAC ±10% 50/60Hz/4200Watts |
| Scanner Head; |   |
| Flexible configuration |  Software allows for many types of scans; Round, Line, square, can be adapted to all types of surfaces or shape |
| Robust | Made of a Aluminium, 2 handle bars and protective lens cap |
| Working distance  |  12 to 18 inches |
| Laser enclosure |   |
| IP level | IP55 |
| Cooling  | 4 Cooling fans fully protected from water |
| Handle bar | Robust handle bars on each side for manutation  |
| Extension electrical cord | 30 feets 120V |
| Computer | Robust computer or tablet with full control and easy to use |
| Software | Ezclean software included |
| Laser presets | 3 presets cleaning process included |


Optional: Robotized Laser Cleaning Assist
ASP can offer a robotized version of the laser system including 5 or 6 axes of freedom for complex surfaces and geometry. 
The robotized laser includes a imaging system ( camera) for quality control of the surface, precision positioning and artificial intelligence to learn new surface or profile changes.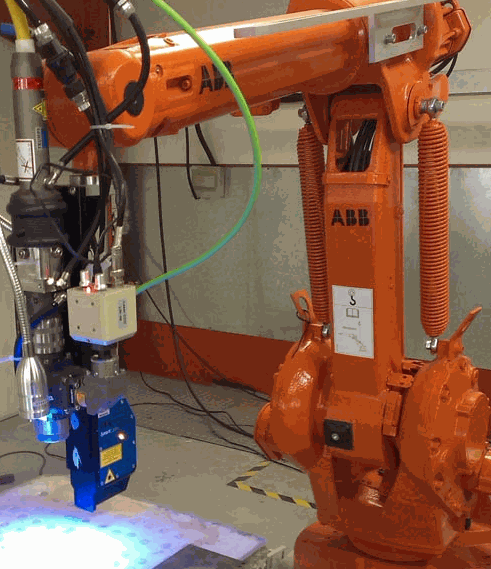 There are no alternative products.
This is a preview of the recently viewed products by the user.
Once the user has seen at least one product this snippet will be visible.
Recently viewed Products